Rules
1: peer-to-peer service
Peer-to-peer service refers to HUASHU's one-to-one service for integrators. HUASHU can provide service personnel to conduct in-house robot training, debugging guidance, assist debugging, etc., and also provide one-to-one training and remote technology. stand by.
(1) Pre-project services:
The integrator needs to conduct pre-technical communication with the sales person in charge before selecting the HUASHU Robot. The sales person in charge coordinates the relevant technical service personnel and integrators to fully communicate the robot selection requirements and provide detailed selection information. After selling the robot, the service team will point the point to the integrator to carry out the theoretical training of the basic principles of the robot (including load selection calculation, etc.), operation precautions, teaching programming, etc., and provide free training for less than 2 days in the province. (Provincial customers need to bear travel expenses)
(2)Services in the project:
When the integrator uses the HUASHU robot to do the first two projects, the service team provides on-site debugging support and guidance to the integrator, including robot programming, signal interaction methods, common operations, etc., and the first project provides 1 On-site assistance for commissioning and hands-on training services for up to 5 days. The second project provides one on-site assistance commissioning and hands-on training service for no more than three days. When the construction period is delayed due to the failure of the robot, the total number of days of service is not included. The above services are free in the province, and customers outside the province are responsible for travel expenses. If the service exceeds the time limit specified by the service, a paid service is required. For detailed charging standards, see Part III: Paid service charges.
(3)Post-project services:
For integrators who are familiar with HUASHU Robots, they usually conduct a return visit training once in 3 months, answering difficult questions in use, and doing in-depth theoretical training and troubleshooting training, equipment maintenance training, and can go to the customer site. Conduct guidance for 1 day. (Remarks: Free in the province, customers in the province need to bear travel expenses.)
2:Regular intensive training
On a regular basis (every half of the year), a large-scale integrator training will be held for a period of five days, including theoretical and practical training, application case training, troubleshooting training, and exam training certificates. This centralized training adopts centralized teaching/on-site guidance. The number of training is provided free of charge. The accommodation and accommodation are arranged by our company and no travel expenses are provided.
The training course includes the following::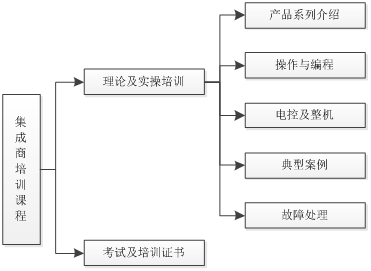 图1 Integrator Robot Training Course